Armanti Edwards is…
Photo Credit: AppFan.com
There was some big news that came out late Wednesday that is very relevant to the first game of the Pirates' season. According to Sports Illustrated's Web site via the AP, Armanti Edwards accidentally ran over his foot with a lawnmower…let the jokes begin.
I have been running through article on SI.com in my head and trying to figure out how it is possible to run over your own foot with a lawnmower. It doesn't seem possible to me and I think sports fans need a better explanation of what happened. I feel like most mowers have an automatic shut off if you lose control of it. Personally, I have never mown grass in the mountains. It must be different. According to ASU's sports information director via the Winston-Salem Journal, "Edwards was mowing the lawn at the off-campus residence he shares with teammate Brian Quick when he slipped pushing the mower up a hill and the mower came back on his foot. Quick took Edwards to Watauga Medical Center in Boone to have stitches."
Has anyone been able to figure out what kind of lawnmower Edwards was using? If the engine and blades didn't shut off by the time the mower rolled back down, Edwards should be getting ready to get a big payment from the manufacturer of the lawnmower as well as the check that I am pretty sure he is going to get when he goes pro. I think that this incident has been hushed a little too much. Is this some sneaky tactic by the mountain folk to have the Pirates thinking about changing our game plan? Don't underestimate the amount of the sneakiness of the Birkenstock.
I want Appalachian State to be in full force when they enter Greenville so there is no asterisk on a Pirate win.  I want Edwards to be 100% because I know that we can beat them. Their playing style is a lot like WVU was last year with Pat White except Appalachian State doesn't have a Noel Devine. I fully except for us to beat Appalachian State. I don't think it is going to be a blowout like all the Boneyarders but I do think we will win by more than a touchdown. Make a comment below and tell us what you think the final score of the game on September 5th will be.
GRAPHICS
I was planning on spending my evening on the computer creating a graphic of this crazy accident but I was browsing Boneyard Banter and came across an image that Capt LolBeard made yesterday and realized that it would be next to impossible to create something as good or better. Check it out:
The next day, LSUFreek of The Sporting Blog and EDSBS, created a .GIF animation of the lawnmower incident mixed with the infamous Buscemi woodchipper scene from Fargo. WARNING: It contains some bloody helmets, guns, coaches, police and kittens. Check it out: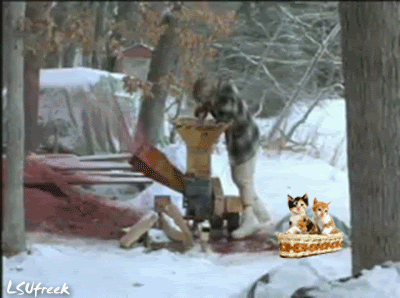 I decided to teach myself how to create an image like that. It took a few days with a lot of trial and error infused with Red Bull and some late night hair pulling but I finally figure it out (as well as holding on posting this until I was finished). My first attempt wasn't quite up to par with some of LSUFreek's animations but I am going to work on it so I can have it down by football season. Check out my .GIF of Armanti Edwards' Lawn Service:
Mine is a little jumpy but I was able to realize how hard it is to create one of these. I have to give LSUFreek tons of respect for the quickness he makes his in and the quality in which he does them. Overall, I have to say that Captain Lolbeard wins the competition for the best graphic because of the incorporation of a Pirate lawnmower (which I would like to own) into the graphic.